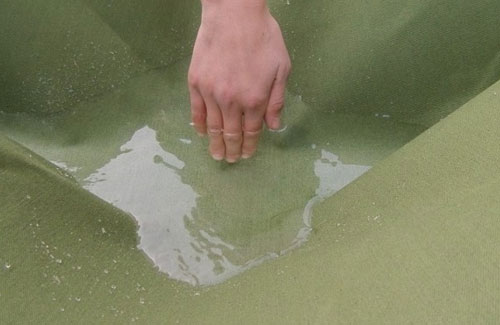 Product parameters:
| | |
| --- | --- |
| ingredient | Polyester |
| Width | 88cm/120cm/200cm |
| density | 4x4 |
| colour | olive green/military green |
| The main purpose | Oil field, grain depot, car tarpaulin |
| MOQ: | 500m |
| | |

Product Description: We promise to send samples free of canvas nationwide, welcome to consult and ask sample! We are a large-scale canvas manufacturer in north of China. Our factory has developed continuously and accumulated rich experience in canvas production. The transformation of production equipment, management and sales model has made our factory more confident to meet the challenges we face! The strict management and standardization process of our factory is the guarantee of product quality. The stable and efficient team is the basis of our development. Our main products: canvas, silicone canvas, PVC three-proof canvas, canvas bag, tent, tarpaulin, etc. are widely sold in China, widely used in oil and gas, railway, ship, port, car tarpaulin, grain storage and other industrial and agricultural The field has won unanimous praise from customers. Our factory is located in the large canvas production base at the junction of Hebei and Shandong provinces , with convenient transportation, welcome new and old customers to visit us! Customer first, reputation first!
Canvas data: Product characteristics and performance indicators:
1. Tensile strength index: Warp strength ≥ 2100N / 5CM latitudinal strength ≥ 1600N / 5CM
2 No leakage, water pressure value ≥2000MM water column
3. Can withstand low temperature, cold temperature is -20 °C
4. Can prevent mildew, mold test is level,Main colors are: green red blue yellow
canvas Use:
1 Various farm roller blinds, pigyard roller blinds, cattle farms, chicken house curtain fabrics, etc.;
2. Now widely used in car tarpaulins, train covers, ship covers, open cargo covered cloth, temporary granaries, Crop open-air cover cloth, temporary work shed, foreign trade, grain storage, oil field, tent, drilling tower clothing, coal mine, and other canvas products;
3. Used in glass factory, wood factory, fertilizer plant, steel structure factory, mechanical hardware factory, feed factory , grain storage, container factory, refinery, packaging plant, paper mill, air conditioning plant, ore plant, fleet, railway, shipping, power equipment factory, etc.;
4. Available logistics companies: railway road transport, dock Cars, trains, ships, cargo ships cargo tarp; 5. available packaging machinery and packaging machinery.
Note on the use of canvas: 1. This product should avoid sharp impact with sharp metal during use! 2. Product quality assurance, worry-free after-sales service, service to your satisfaction! 3. Welcome new and old customers to inquire and order!